---
All ten Illinois Green Griffith attorneys have been named as 2021 honorees.
---
Green, Griffith & Borg-Breen is pleased to announce that 10 firm attorneys have been recognized by Illinois Super Lawyers for their excellence in the Intellectual Property and Intellectual Property Litigation practice areas.
Founding partners Bob Green, Chris Griffith and Caryn Borg-Breen all have been named to the Illinois Super Lawyers list for 2021, marking the 6th straight year when all three have been so honored.
Bob Green has been included on the list for the past 13 years; Chris Griffith and Caryn Borg-Breen have both been honored for the past 6 years. Caryn Borg-Breen was also named a Rising Star for six years prior to being added to the Super Lawyers list.
This year, all of the firm's Illinois attorneys were recognized by Illinois Super Lawyers, with seven Green Griffith attorneys designated 2021 Illinois Rising Stars by Super Lawyers. Partner Emer Simic has been included as a Rising Star for the past 10 years. Two attorneys, partner Jessica Tyrus Mackay and associate Ann Kotze, were included on the list for the third year in a row. Associates Timothy O'Brien and Benjamin Witte have been recognized as Rising Stars for the past two years. Two associates, Erin Kautz and Olga Schwier, are receiving their first Rising Star designations.
"Each of our attorneys at Green Griffith believes that our clients expect and deserve the highest quality service and results. I am proud to work alongside such dedicated and hard-working attorneys and we are thankful to Super Lawyers for this well-deserved recognition." — Chris Griffith, Founding Partner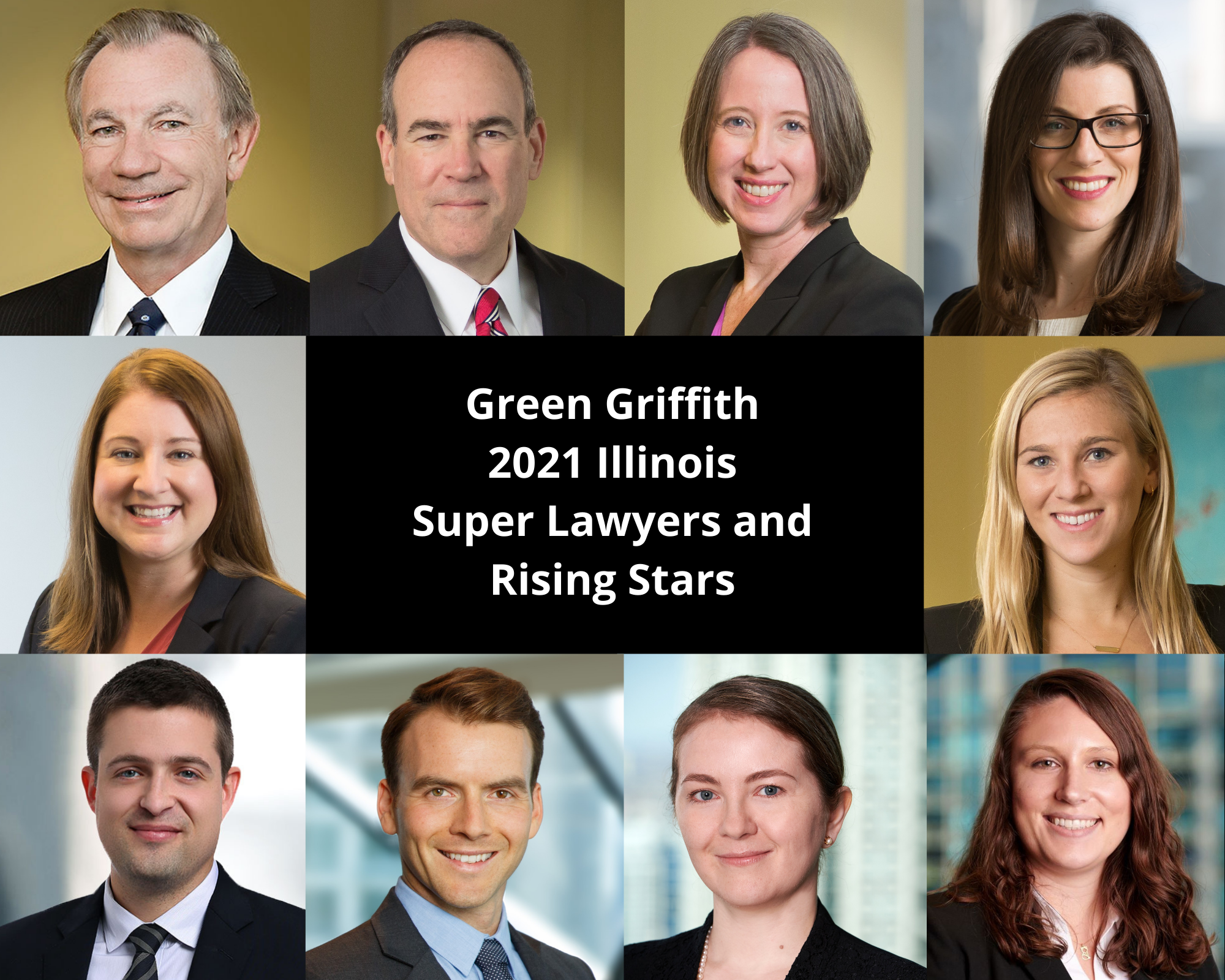 Congratulations to our award-winning attorneys:
2021 Illinois Super Lawyers: Robert Green, Christopher Griffith, Caryn Borg-Breen
2021 Illinois Rising Stars: Emer Simic, Jessica Tyrus Mackay, Ann Kotze, Benjamin Witte, Timothy O'Brien, Olga Schwier, Erin Kautz
We invite you to learn more about our award-winning attorneys here.